Iskanders, Mi-35 and Sosna.
Last month, the Belarusian Armed Forces received a number of new military equipment. We have already written about them, but let's summarize.
The supply of literally long-awaited Mi-35M helicopters to the Belarusian Air Force (the contract for their delivery was signed back in 2020) became one of the main expansions of equipment for the Belarusian army in August.
We recall that the helicopters were declared as new, but visually it's questionable. Nevertheless, Mi-35M helicopters entered service with the 50th Combined Aviation Base of the Belarusian Air Force (military unit 06752, Machulishchy airfield). Today the Mi-35M is the most modern helicopter in service with the Belarusian Air Force.
In addition, in 2023-2024, Belarus expects to receive 8 more Mi-35M helicopters.
A batch of Iskander-M missile systems
12 pieces of equipment of the Iskander-M missile system arrived in Belarus at Asipovichy-1 station at the end of August and were immediately put into service. The set that arrived in Belarus included 4 launchers.
It's possible that eventually the Belarusian Armed Forces will receive a brigade set of Iskander-M missile systems — a total of 51 vehicles, of which 12 are launchers.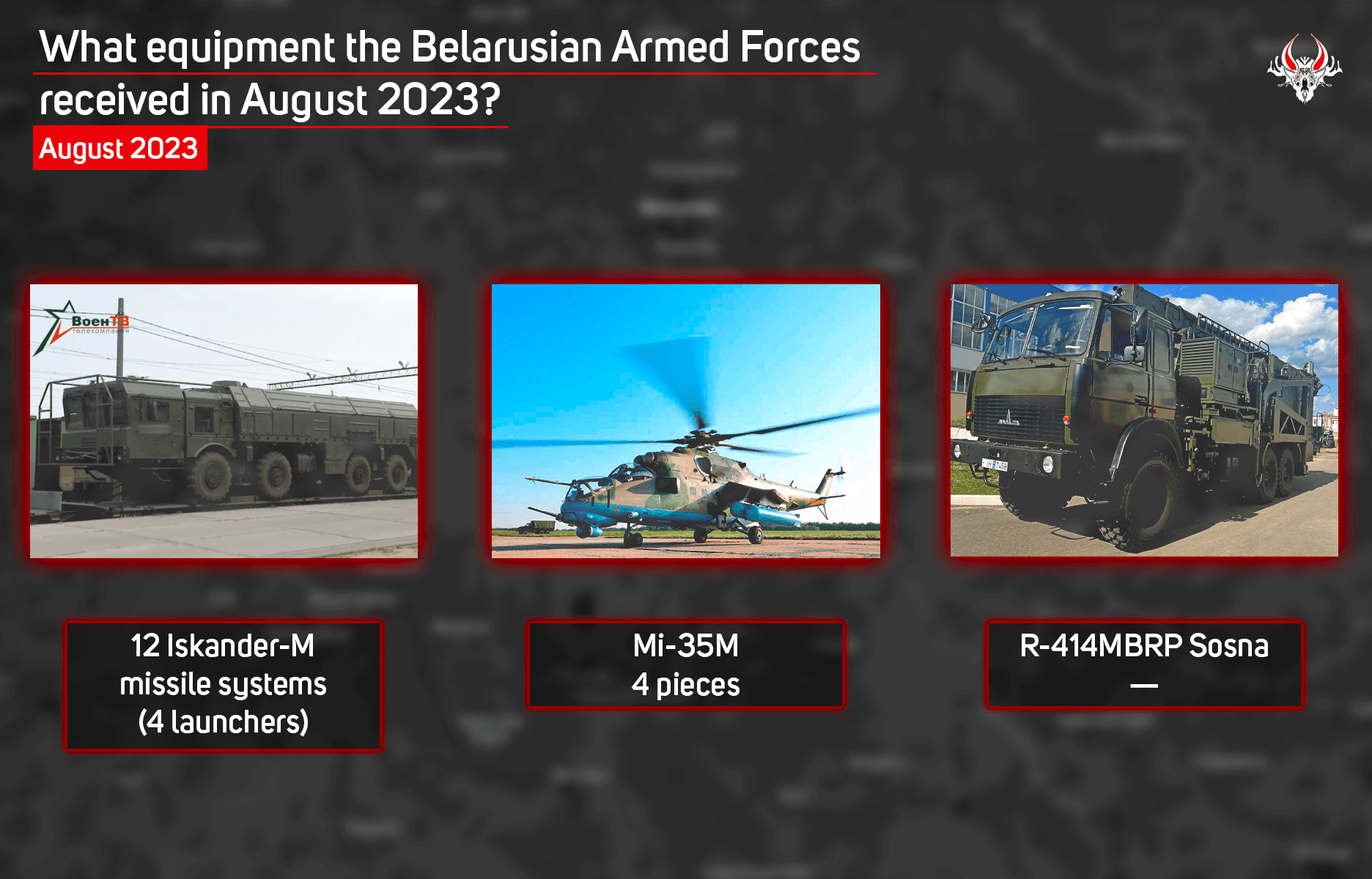 Belarusian Hajun
R-414MBRP Sosna radio relay stations
The number of stations that entered service is unknown, they are mainly used to organize radio relay and cable communication lines.
In addition, it was announced that the V-200 Polonez MLRS (in service with the 231st Artillery Brigade) and the Osa-MA SAM system (in service with the 740th Anti-Aircraft Missile Regiment) were supplied to the Belarusian Armed Forces.
The full review of military activity in Belarus in August is available here.