Highly likely we see an expedient implementation of the agreements reached during the visit of Lukashenko to Beijing.
On April 24 at 13:02 (UTC), an Airbus A330-343 plane of Air China airlines with registration number B-5957 took off from Beijing on flight CA721/CCA721. The plane should have landed at Minsk National Airport (MSQ) at 17:20 (Minsk time), but arrived a little earlier — at 16:41. It should be noted that the CA721 flight is regular and arrives in Minsk on Mondays and Fridays. Additional confirmation is that this flight was in the schedule of arrivals on the website of the Minsk airport.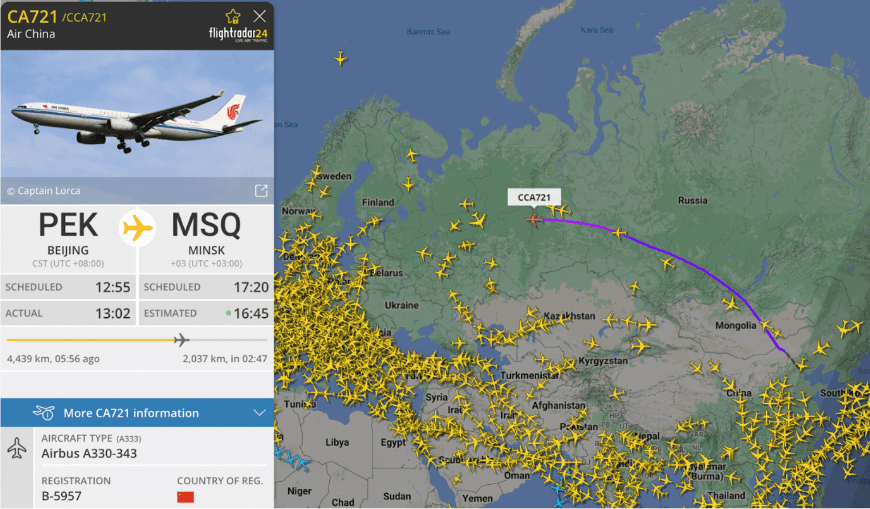 Flightradar24
According to our data, MSQ staff received a telegram with a list of passengers, including the following citizens of China:
"Chen Yuhong minister of army, Zhang Zhongyang vice minister of aerospace science and technology, Liu Sen minister of air force."
It is immediately notable that the data received by the MSQ indicates that the officials of the Chinese ministries arrived in Belarus — judging by the text, the Ministry of Defense and the Chinese Air Force. However, the search showed that other people hold these positions in the Chinese government.
Nevertheless, we still managed to find people with the names mentioned and we may assume that they arrived in Belarus: Zhang Zhongyang (张忠阳) — general manager of the China Aerospace Science and Technology Corporation; Chen Yuhong (陈宇红) — CEO of the Chinasoft International company;
Liu Sen (Sen Liu) — PhD in the University of Science and Technology of China.
Unlike the latter, the certainty that the first two people were on board is a little higher. But, nevertheless, we should note once again that we assume, rather than state, that it was these people who arrived in Belarus. In addition, as of 17:30 on April 24, propaganda has not yet reported on the visit of these Chinese citizens to Belarus.
Zhang Zhongyang mentioned above is the CEO of the China Aerospace Science and Technology Corporation (CASC), which, according to public records, is the main contractor for the Chinese space program and is one of the 10 largest corporations in China's military-industrial complex.
We should also note that this company manufactures the following products: solid-propellant and liquid-propellant launch vehicles, solid-propellant and liquid-propellant missile engines, orbital space stations, the Tianwen-1 robotic spacecraft, Zhurong Mars rover, weather satellites, communications satellites, Beidou satellite navigation system, seismic and electromagnetic monitoring satellites, intercontinental ballistic missiles, medium-range ballistic missiles and various unmanned aerial vehicles.
Now, as for Chinasoft International and its CEO Chen Yuhong. The company develops software and, judging by their website, also develops cloud solutions, as well as big data. In addition, the company is also one of Huawei's key partners. In 2019, they jointly developed and presented an intelligent solution for dealing with financial big data.
The close connection between these companies is evidenced by another fact. In 2018, the U.S. Department of Justice launched an investigation into Huawei Technologies Co Ltd, followed by the biggest one-day drop in shares of Chinasoft International in 10 years. At the same time, the company stated that Huawei, the world's largest telecommunications network equipment manufacturer and the third largest smartphone supplier, was their key customer.
Chen Yuhong, the chairman of Chinasoft mentioned above, stated, "After careful assessment by the company's management, it has no significant impact on the business of the company for the time being."
Among other things, we can note that in 2019, Chinasoft International and Huawei announced that they would jointly build an Artificial Intelligence Innovation Center in Chongqing, southwest China. They would also develop an ecosystem based on Huawei's Kunpeng central processing unit, Chinasoft announced at that time.
Highly likely we see an expedient implementation of the agreements reached during the visit of Lukashenko to Beijing. According to our information, these agreements were related to cooperation in military production,  dual use technologies and IT. Those include possible production of microchips of dual use and drone parts. Our source also claimed that the agreements were de-facto tri-lateral and included Russia as a third party.